To complement Niumee's concept of providing all aesthetic services under one roof, we have set up an Academy where professional certified courses are held spanning a variety of topics and educational themes.
The Academy is a large 50m2 room offering a variable layout, depending on the course plan and organiser/student needs. Its facilities include a flip chart, a write-on-wall concept to share ideas or brainstorm, high speed internet with WIFI access, notepads and pens, projector, complimentary water.
Tea and coffee breaks & lunch can also be organised.
The Academy is also open for externally organised courses and certificates.
For booking queries please send an email to info@niumee.com or phone on +356 2032 0100.
#onfleek Summer Academy
Summer Academy for 12 years+
Tuesday 11th July till Thursday 24th August,
every Tuesday, Wednesday & Thursday
(break for Santa Maria 15th,16th and 17th August)
between 9am and 12.30pm
Complimentary gym usage from 8am-9am and 1pm-2pm.
Workshops on grooming and wellbeing; skin care and beauty, make up,brow shaping, manicures and pedicure, hair styling, yoga, health and personal hygiene, discussions with a psychologist on cyber bullying, social media, relationships, peer pressure, boosting self-esteem.
The cost of €410 per applicant will include a basic make up brush kit and nail kit.
Attendees are encouraged to bring their own make-up and hair dryer/hair brushes with them.
Lunch can be purchased from Pure Bar @ Niumee (optional).
All attendees will receive a certificate of attendance, as well as participate in a photoshoot on the 24th of August.
For more information, call 2032 0100 or email us at info@niumee.com.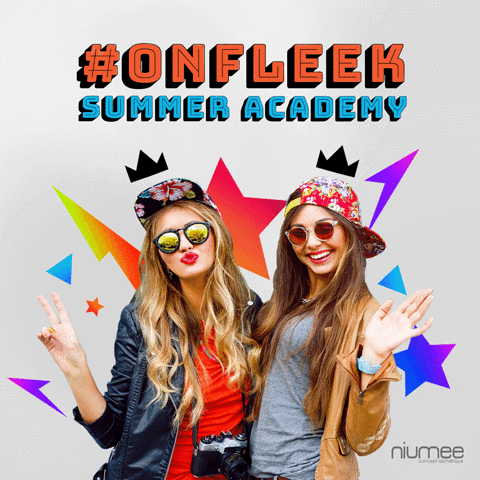 Beginners nail course
Starting 2nd May.
Evening classes 5.30pm- 8.30pm
It will be 6 evenings 2nd, 3rd, 4th, 9th, 10th, 11th May.
With international nail trainer Bart Wauters
€250 euro
Kit can be purchased for additional cost.